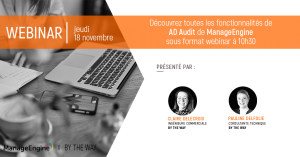 La solution AD Audit Plus permet, en temps réel, d'auditer, de superviser et de générer des rapports sur l'infrastructure Active Directory, pour une vision 360° et s'assurer une longueur d'avance.
Avec ses rapports préétablis, AD Audit Plus permet de répondre aux 4 questions primordiales suivantes :
qui ?
quand ?
quoi ?
où ?
Au programme :
•  découvrez les fonctionnalités & les caractéristiques de notre solution ADAudit de ManageEngine avec Claire Delecroix – ingénieure commerciale chez By The Way ;
•  participez à une démonstration de Pauline Delfolie – ingénieure systèmes & réseaux chez By The Way.
Inscrivez-vous ici :